Sheikh Nahyan bin Mubarak Al Nahyan, Minister of Tolerance and Coexistence, today inaugurated the annual 'Government as an Incubator of Tolerance' forum, a hub for tolerance, under the slogan "Cultivating the Principles of Tolerance and Coexistence."
The event was organised by the Ministry of Tolerance and Coexistence in collaboration with ministries, federal and local authorities participating in the initiative.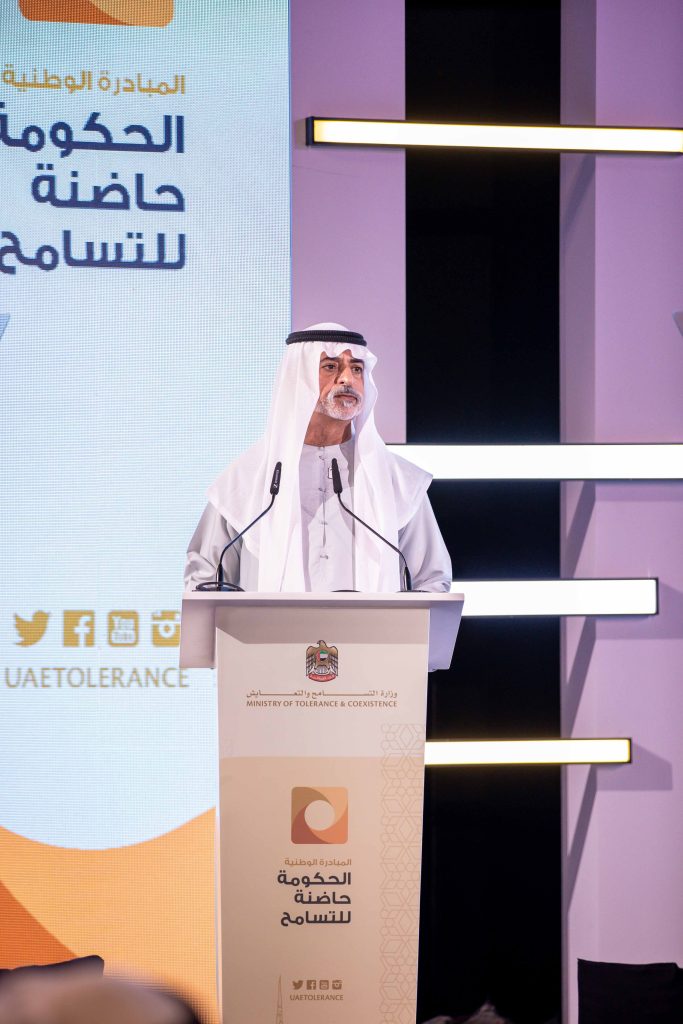 The forum was attended by Dr. Thani bin Ahmed Al Zeyoudi, Minister of State for Foreign Trade; Zaki Anwar Nusseibeh, Cultural Advisor to the UAE President; Dr. Mohammed Matar Al Kaabi, Chairman of the General Authority for Islamic Affairs and Endowments; Dr. Mugheer Khamis Al Khaili, Chairman of the Community Development Department in Abu Dhabi; Hessa bint Issa Buhumaid, Director-General of the Community Development Authority in Dubai; and Afraa Al Sabri, Director-General at the Ministry of Tolerance and Coexistence, in addition to representatives of more than 55 federal and local ministries and authorities, 60 ambassadors from friendly countries to the UAE, and several local, federal and private sector pioneers.
Addressing the event, Sheikh Nahyan said the annual forum was an opportunity to highlight the significance of tolerance and human fraternity to the UAE's progress and development, as well as celebrate the efforts of the tolerance committees of ministries and government entities, which are composed of talented individuals who are eager to contribute to the country's development.
Moreover, Sheikh Nahyan called on everyone to contribute to the success of COP28 and celebrate the most distinguished and creative initiatives related to tolerance, highlighting the importance of cooperation through a common vision for promoting the significance of tolerance and human brotherhood in a sustainable community.
The forum focussed on highlighting the efforts of the Ministry of Tolerance and Coexistence and federal and local government entities in implementing the Government Incubator of Tolerance initiative. It also provided a comprehensive platform for exchanging expertise and best government practices in tolerance and coexistence among all entities participating in the national initiative.
The forum covered the best practices in government institutions by presenting the vision of four government entities that offered an innovative initiative to promote tolerance. The forum concluded its activities by honouring 29 ministries and entities for their excellence in achieving the initiative's goals.
The forum also announced the most important initiative's accomplishments over four years. Currently, the initiative includes 44 federal and local ministries and entities, and 44 tolerance committees were established in all participating entities, which were able to organise 1,259 initiatives, programmes, and events while 1,520 measurements were also carried out on the tolerance measurement index.
The Ministry of Tolerance and Coexistence, in cooperation with relevant ministries and entities, organised 56 training programmes, which benefitted 85 federal and local entities and were attended by 1,471 government employees. The initiative also launched the first global standard for tolerance and coexistence for government and private institutions. It became global through the participation of six countries in the international initiative "World Governments as Incubators for Tolerance."